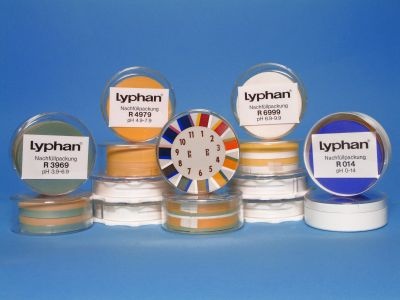 For all our original roll packages, we produce cost effective refill rolls without a color scale that you can load into your plastic dial container.
For all original rolls are inexpensive refill packs available without color scale to be placed in the plastic screw box.
For items R111, R3969, R4979 and R6999 there is a refill package available with two rolls each 6 meters long, for a total of 12 meters. For the product R014, there is a refill of one roll, 6 meters in length.
All products in this group at a glance
Click on the item number for more details!
Roles
Refill Pack with 2 rolls
NF 111
pH
1,0
2,0
3,0
4,0
5,0
6,0
7,0
8,0
9,0
10,0
11,0
NF 3969
pH
3,9
4,2
4,5
4,8
5,1
5,4
5,7
6,0
6,3
6,6
6,9
NF 4979
pH
4,9
5,2
5,5
5,8
6,1
6,4
6,7
7,0
7,3
7,6
7,9
NF 6999
pH
6,9
7,2
7,5
7,8
8,1
8,4
8,7
9,0
9,3
9,6
9,9
Roles
Refill Pack with 1 roll
NF 014
pH
0,0
1,0
2,0
3,0
4,0
5,0
6,0
7,0
8,0
9,0
10,0
11,0
12,0
13,0
14,0