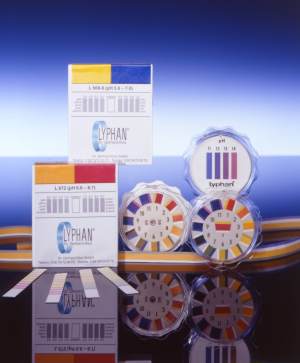 pH Indicator Paper or pH test paper is used to measure pH quickly, easily and without calibration.
Whenever it's necessary to measure pH, the company Dr. Gerhard Kloz GmbH offers several types of pH indicator strips and pH papers as standard products.
Special orders of customized pH indicator paper and pH test paper are available on request.
You can buy LYPHAN pH indicator paper directly from us.
To contact us, please click: here.
All pH-Indicator paper product groups at a glance
Quality characteristics of pH-Indicator Paper/Test paper
a wide range of pH indicator paper to measure the entire pH range, in 0.2 pH and 0.3 pH increments
fast and accurate measurement of colored, cloudy, as well as clear aqueous solutions
our pH paper has the highest accuracy due to several adjacent indicator zones on the Lyphan rolls
results are easy to see under all lighting conditions
Our pH indicator paper is very durable and long-lasting when properly stored in a dry and dark place