Issue with 100 stripes in two colors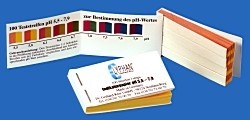 These LYPHAN test strips have a more precise readability by two adjacent indicator zones.
These LYPHAN notebooks are supplied with a color scale. They are used for simple measurement – even at home.
H5579 test strips are used to control the pH in the range 5.5-7.9.
Instructions for use of LYPHAN pH indicator paper:
Immerse the test strip for approx. 1.2 seconds in the solution to be tested. Then compare the wet strip with the color scale and assign it to the corresponding pH value.
Do you have any questions regarding our product or
You would like to place an order: click here
Back to product group: click here